SAMOA
More than just tropical islands, Samoa is a very special land of extraordinary beauty, where turquoise lagoons lap onto unspoiled white sandy beaches lined with coconut palms and where cascading waterfalls, rich virgin rainforests and mist covered mountain peaks are al contained within a sparkling necklace of coral reefs.
Explore Upolu by car, with a good coastal road and several roads crossing the interior with small villages dotted along the rivers and coastline these are great places to experience traditional Samoan life.
The coastline is a wonder in itself, with sparkling white sand beaches, in some places stretching for miles, and here and there are walls of sheer cliffs that drop straight into the Pacific.
And beyond the beaches out into the blue lagoons are scattered the rest of the islands that make up the Samoa archipelago, some inhabited, others with only natures wildlife, protected by the fringing coral reef that keep the powerful force of the Pacific Ocean at bay.
And amongst all this natural beauty and picturesque valleys and coastline you will find nu'u or villages with their churches, meeting houses and open fale or homes encircling the malae or village green.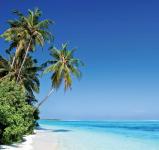 5 Nights From
$1,335