Not Just a Travel Agent!
Looking for flights, travel or holiday packages?
Then meet the team from Vincent George Travel, a Dunedin-based company now with brokers based in Central Otago and Christchurch.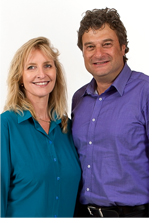 Owned and operated by travel professionals Vincent George and his wife, Rosann Connolly-George, Vincent George Travel has been a fixture on the local travel scene for more than a quarter of a century.
Vincent's passion for travel has resulted in an extensive career in the industry that has included lecturing at the Sir George Seymour College of Airline, Travel & Tourism and Otago University. As a member of the NZ Institute of Tourism and Travel, he often hosts travel talks and information sessions for various community organisations. His expertise is in planning successful, hassle-free and memorable trips.
Rosann too has an extensive travel background with many years in the conference and events, accommodation and customer service aspects of the industry. Rosann is in demand as a tour escort, each year accompanying groups travelling from Dunedin to different international destinations.
Contact:
vincent@vincentgeorgetravel.co.nz
rosann@vincentgeorgetravel.co.nz
Meet our brokers
Central Otago - Maniototo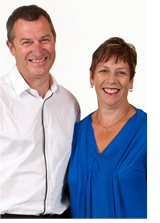 Vincent George Travel's Central Otago branch is serviced by well-known travel professionals, Kay and Stephen Dunn.
Both have been in the travel industry for more than three decades and Kay has tutored in tourism at Otago Polytechnic. Between them they have visited around 30 countries, ensuring they are fully familiar with the accommodation and sightseeing options they recommend to clients.
Central Otago Branch Contact:
Tel: 03 444-9132
Kay: 027 522-2389 kay@vincentgeorgetravel.co.nz
Stephen: 021 100-6718 stephen@vincentgeorgetravel.co.nz

Christchurch
Christchurch Branch Contact:
James Richards
Tel: 022 463-6853
james@vincentgeorgetravel.co.nz
Every Vincent George team member is an expert in all aspects of travel – leisure, corporate, escorting large tours, tailoring small special interest groups, conference arrangements, honeymoon registries, travel insurance, foreign exchange, and even sorting the best possible phone rates for calling home.
In Dunedin, Vincent George Travel operates out of Cnr of Moray Place and Burlington St – 469 Moray Place and a mobile service that visits clients at their home or office at the clients' convenience. 24/7 the team is constantly on call no matter the hour or the day so clients travelling anywhere in the world can get in touch if there's a problem on + 64 3 477 0443 or within NZ on their 0800 number 0800VINCEG
Vincent George Travel, is an approved Travel Broker for the Travel Managers Group Limited. The Travel Managers Group is an accredited and bonded member with IATA (International Air Transport Association). This enables us to find the best available deal without restriction and with maximum protection for our clients.
CLIENT TESTIMONIALS
Thank you so much for your service! It was fabulous. Everything went without hitch and it was so nice to relax and let you find the best deal for us. Lisa - Southland
-----
Hi Rosann,. Thanks heaps for helping the kids organise their travels! I'm very impressed with your professionalism & communication. You made this very easy for the kids & helped settle their nerves & anxiety getting things sorted. Sandra
-----

Great service as always and I would highly recommend you to anyone. Mike - Dunedin

-----
It is very hard to find a travel agent who is so detail-focussed that every part of your trip is organised accurately and competently. Rosann is that travel agent. She makes sure you are never stranded without support, whether it's your own fault or circumstances beyond your control. She has such great ideas for places you would never find on your own - which is how we found ourselves standing on the lip of an active volcano in Vanuatu with lava cascading all around us. An awesome sight that we will never forget. Everyone I know who uses Rosann also raves about her. If you're looking for the best travel agent around, she's the one to choose! Lynnaire and Matt.

-----
I really CAN"T SAY ENOUGH about how awesome Rosann and Vince are. I have flown heaps but recently my husband and I decided to go on our first "hot holiday" as a sort of belated honeymoon. With Rosann's help we decided to go to Vanuatu. She organised everything, gave us heaps of options (price and activities) and was really helpful.

We were set to fly to Auckland on Sat March 14th and to Vanuatu the following morning- and on Friday night, the 13th March, Cyclone Pam swept through Vanuatu and devastated the whole island. We felt really sad for the people of the island but also gutted because we were really looking forward to this holiday and weren't sure what was going to happen now.

On the Saturday morning, Rosann was on the phone with me first thing- reassuring me that we would get our holiday no matter what! She sorted us out with an alternative trip to Samoa instead- clear of danger and still hot! We were able to keep our flight to Auckland and left for Samoa the next day.
We had the most amazing holiday at a beautiful resort that Rosann sorted out for us. The whole time we kept saying "Thank God we booked with Rosann" because otherwise we wouldn't have known how to organise something like this so quickly, and also would have needed to sort out all the insurance, etc. As it was, we got to relax, she sorted out our insurance and refunds while we were away, and everything worked out.

Erwin and I really can't thank you guys enough for all your help and support through this tricky time. It has really shown us the value of working with the experts because you just never know what could happen! Emily & Erwin