GOLD COAST
The attractions of the Gold Coast bring smiles to people of all ages and stages. With exhilarating rides, exotic animals and endless waterslides to help you cool off on hot summer days, your Gold Coast Holidays offers a full spectrum of interactive entertainment - from dazzling big budget Gold Coast theme parks to small, hilariously kitsch museums.
From the iconic Surfers Paradise beach to the sophisticated dining precincts of Main Beach and Broadbeach and out to the lush, green Hinterland, there's a new experience waiting for you at every turn on the Gold Coast.
Theme parks, world-renowned beaches and year-round sunshine are just a few of the reasons 10.5 million visitors flock to this vibrant city each year - a destination which is as scenic and peaceful as it is fast paced and active.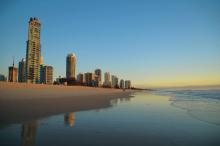 7 Nights From
$982